I think one of the hardest nurseries to design is a gender neutral one.  I couldn't imagine not finding out what I was having (I guess I am not the patient type!) but plenty of people I know did exactly this.  But designing a nursery that is lovely, practical, not too expensive AND works for a boy or a girl can get tricky!  I set myself the challenge of designing a few rooms that I hope managed to provide all those aspects successfully.
I think that nature is a great theme for gender neutral nurseries – even flowers can be used for a baby boy if they aren't too flowery…. if that makes sense! For instance, first up is a yellow and grey theme that uses a very bold, modern floral print, which I think could work for a little boy or a little girl very easily.
Most of the art I use for nurseries (and indeed for many of my design boards) is on Etsy.  I LOVE Etsy.  It's rather embarrassing to have to admit it, but sometimes I just scroll through my favourites list to look at all the pretty things!  It also provides fantastic inspiration for DIY projects.  Especially if you have something and you don't want/need it anymore but it's still fine so you want to find a new use for it or a way to change its appearance.  But anyways, the little elephant with the balloon on this board is from Etsy from a seller named TrafalgarsSquare. And that lamp was available at Target for only $50! Doesn't seem to be on their website anymore but they hardly have any of their stock on their website (Australian retailers are so behind the curve when it comes to online shopping!) so it may still be in-store. But a white lamp is hardly a challenge to find 🙂
Sticking with the nature theme, the next board is using green as the primary colour.  It does incorporate some blue as well but I don't think it looks too boyish for a girl.  I think this room would transition well to toddler years too.
This board has lighting from IKEA, a rug and curtains from Urban Outfitters (who do ship a lot of things to Australia), and crib sheets from The Land Of Nod (who also ship to Australia and are the children's line for the US store Crate and Barrel).  The cushion is from Etsy again, from a store named SewSusieDesigns.
Continuing the nature vibe, here is a woodland theme nursery design board as well:
The leaf wall art is from Urban Outfitters, the rabbit light is from Sokol, the bear night light is from Kindred Gifts, the bedding is from Skip Hop, the clock is from Babys Got Style. The rug was from an online store that was called Buyster.  It became Wayfair.com.au but I don't think they have this particular rug any more.  The mobile is from Hunt and Gather. The fox cushion is from Etsy store FluffedAnimals but if you search 'fox cushion' on Etsy or Pinterest you will be absolutely overwhelmed with options.
Lastly, a good theme for boys or girls, and another one that transitions well to toddler years, is rainbows.  Very easy to do since any colour works in it, but the trick is to get the right balance.  Not enough rainbow and it will look like a hodgepodge of mismatched items without a cohesive palette.  Too much and it looks like Rainbow Brite threw up all over your kid's room.  It's a fine line but lots of white in the room goes a long way to keeping it classy and not kitsch.  Here's hoping I managed to walk the line with this board:
Pillow is from Etsy store, EarthLab. Chair and rug are both Freedom Furniture, the crib sheet is from Land of Nod, the rainbow artwork is a DIY project, the clouds bookcase is from Urban Baby and the cloud embroidery hoops would be another DIY inspiration (although you can buy this one from ChezSucreChez, another Etsy store if you prefer to buy rather than make).
And lastly, I just couldn't help myself, so here is one more girls nursery design board!  I would actually love this design for my own bedroom – minus the change table part on top of the chest of drawers and the mobile 🙂
You could make this into a room for a little man very easily by just switching the light fixture to something like this:
or this:
(both from Beacon Lighting)
And switching out the crotchet rug perhaps for something like this: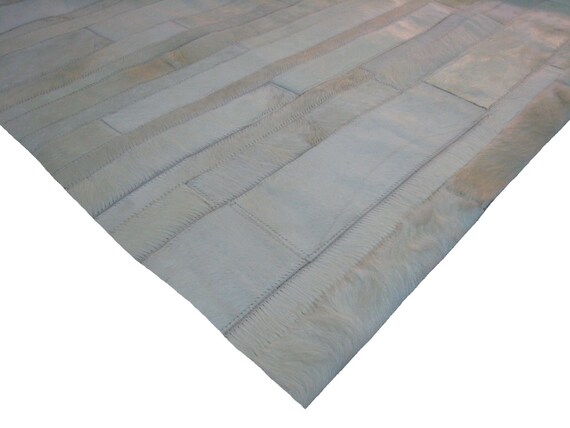 This fabulous cowhide rug is from an Etsy seller named LifestyleByCara. I LOVE these rugs. They are modern patterns made from cowhide. I am a huge fan of cowhide rugs since I got them for my dining room.  They are soooo easy to keep clean.  This is extremely important in a room used by little humans who seem to be able to produce more volume of bodily fluid than what seems possible to fit inside them….   And the best part is, a rug like this will last 20 years easily and can be used in a room for an older child or even later in a different room of the house since it's not a "baby" rug. Value!
So that last one is not gender neutral but by holding off on buying the light and the rug, you could make it work either way. Later on, you could even add a few blue or pink items if you felt the need 🙂