I recently did a couple of design boards for a girls room.  I was aiming for pretty and modern; a room that could work from pre-school to teenager – if you swapped the teddy bears for boy band posters 🙂  So let's take a look at these and see if I was successful!
This first design has bright pink, white, a few pops of turquoise blue and silver.
Lots of prettiness and bright colours.  Pillows and art are from Etsy, curtains are from Urban Outfitters, peacock bedhead, lamp and inlaid side table are from Zohi Interiors, and the 'love' sign is from Matt Blatt. The white bedding you can get anywhere!
The next design I did two variations: one using more colour than the other. So you could decide if you wanted to be more, or less, adventurous!
My thinking is that if you wanted coloured walls, or even a feature wall with stencils or vinyl decals like this:
then you would go with the beige patterned curtains and the lace cushion. These dots are from an Etsy store called All Four Walls.  You could do pink rain drops, or red hearts or a large scale pattern like this: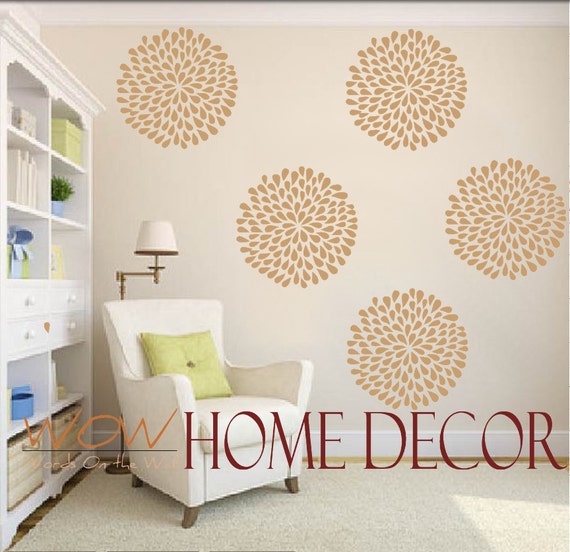 As you can tell, these ones are from an Etsy store named Wow Home Decor. Or you could go crazy and do the ceiling. Many, many options!
But if you like white walls then you could inject more colour and pattern with the second design that has a pink/red cushion and curtains. The bedhead is from EBay, believe it or not! From a store called Design Inspired. They have really affordable upholstered bedheads. The curtains are both from Urban Outfitters, the flamingo lamp is from Matt Blatt, the mirror is from Lightly, the Moroccan pouf you can get from Etsy or you can also get them locally from Table Tonic. The gorgeous chandelier is from Exhibit Interiors. Bit pricey for a little girl room so if you were really doing this, you'd actually want to find something similar but MUCH cheaper! The side table is from Interiors Online. The lace cushion is from Hunt and Gather and the block printed pink and red pillow is from Nest Emporium. The chest of drawers is just a Malm dresser from IKEA with some fretwork panels by a company called Overlays. They are designed for IKEA furniture, or you can have custom sizes made, and you spray paint them (or leave them white) and just glue them on the front of your IKEA furniture!  Or on a mirror, a mirrored wardrobe door, etc.  Really awesome idea and really affordable way to personalise your IKEA furniture.
So what do you think?  I must be honest, I wouldn't mind either of these rooms for myself 😉